24 Years and going strong Campground Comments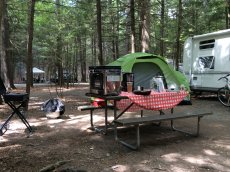 My husband and I arrived 24 years ago in the dark with a tent on top of the car. We drove in looking for a place to stay over night. We were put on a site near the creek , not really seeing our surroundings. We woke up and when we walked out of the tent the beauty was overwhelming. Family owned and run, they made everyone feel at home. A year later we brought our first born and then our second.
Since then the grandchildren have taken over and they have built on Elton's legacy and have expanded . Brian and Eric are no longer the little guys driving with Dad and Grandpa on the hayride tractor but running the park and keeping the family traditions. It stills feels like home away from home and keeps getting better. We haven't missed a year up at Rips. My grown children have gone every year through out their whole lives with us. They are 20 and 24. I think that sums up what a wonderful place it is.
We are getting ready for the Halloween weekend. We look forward to going up and camping with our long time camping neighbors who we meet each year.
Thanks to Rip Van Winkle we have many wonderful family memories and new friends who we camped next to who have become lifetime friends. That's the kind of place it is.
Susan Matura
- Wading Rivier, NY