Is there anything more fun, relaxing, and enjoyable than spending a weekend camping in the Catskills?
(No.)
Beautiful scenery, the quiet chirping of nearby wildlife, and no emails, work calls, or bustling traffic sounds for miles. You can't beat it!
However, if you go on a weekend-long camping trip with just the clothes on your back and no other plans, belongings, or equipment - you're likely to have more of a stressful time than a relaxing getaway. Luckily, we've put together some excellent tips on fall camping in the Catskills!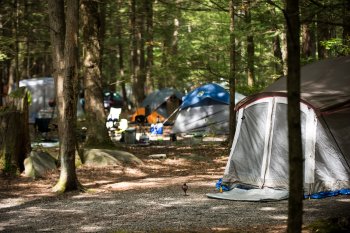 Make the most of your family camping trip this fall
Pick the right campground - this one is easy... let us help you out: Rip Van Winkle Campgrounds!
Write out a fall camping checklist - Just like any family vacation, it's a great idea to make a list of all the items you'll need to bring so you don't forget after it's too late!
Pay attention to the weather - fall weather can change rapidly, so make sure you're checking the Saugerties weather forecast before your trip so you can prepare for rain or shine (or everything in between!).
Pack some closed-cell sleeping pads - these are great for keeping your body warm and protected from the cold, cold, cold ground. Bring multiple if you have them.
Bring a cold-weather sleeping bag - whether you're Catskills Mountains camping in a tent, staying in your RV at Rip Van Winkle Campgrounds, or opted for a cabin in the woods rental for shelter; you need to pack a quality sleeping bag. Fall nights can get extremely cold and you'll need to stay warm throughout the night.
Bring more warm sleeping gear - if you don't have a cold-weather sleeping bag, don't panic. You can get creative with how you're staying warm. Bring two or three sleeping bags, extra blankets, and extra clothes to keep yourself warm and comfortable at night.
Invest in a quality tent - if you are tent camping in NY, make sure you're opting for a quality tent and not a hastily thrown together old one. There's nothing worse than laying down to rest for the night and realizing there's a rip in your tent, welcoming all sorts of weather and critters into your "relaxation" space.
Overpack clothing - we've all overpacked on a vacation or road trip and that's okay. And though underpacking for a hotel stay isn't a big deal at all, underpacking for a fall camping trip can be a disaster. If you don't need to wear everything, no problem! But it's much safer to have everything handy in case it is needed. Pack some extra thermal underwear, fleece jackets, winter cap, gloves, boots, extra (dry) socks, rain pants, and plenty of changes of general clothing.
Don't forget about the bugs - although you and the family probably won't need too many bottles of sunscreen during your fall hike in the Catskills, you'll certainly need to fight off those little insects. Just pack a few cans of bug spray and you'll be good to go!
Hang a tarp near your tent - on those chilly, windy, fall days, a tarp is a great way to protect your family from the wind.
Get active - camping should involve lots of relaxation, yes, but you shouldn't be completely stationary. If it's chilly out, get up and move around to stay warm. Hiking in the Catskills is one of the most rewarding fall activities you and your family can do - so get active and enjoy!
Eat lots of food - bring lots of snacks and healthy fats like nuts and avocados! These are great for helping to keep you energized as you burn calories on your hike or throughout the day. Plus, eating carbs will help your body stay warm.
Pack some extra lighting - remember, the days are shorter and the sun is going down earlier. If you and the family want to stay up for a little bit longer, just make sure you have adequate lighting so no one walks into a tree... or worse.
Speaking of bears... be respectful of nearby animals - there are lots and lots of animals in the Catskills and you should do your best to not bother them. Be on the lookout for bee hives and make sure you don't have any food waste at your campsite.
Bring your survival kit - in addition to clothes, food, sleeping gear, and a First-Aid Kit, you should make a survival kit with the rest of the essentials: flashlight, batteries, bandanna, toilet paper, cotton balls, waterproof matches, duct tape, tinfoil, pocketknife, map, sunglasses, compass, and plenty of water.
It might seem like a lot but you should be able to easily pack and transport all these items - and they'll make your family's camping adventure in the Catskills a much more enjoyable and stress-free experience. Have fun and be safe!