Many of our seasonal campers just started out by staying with us for only a day or two. When they realized they wanted to have their favorite site whenever they wanted, for as long or short as they wanted, they decided to become seasonals. As a seasonal camper, you can come at any time of the day or night, any day of the week and stay for a day or the entire season.
Seasonal Campsites Include
Your full-service hookup site includes
Water
30 and 50 amp electric
A sewer connection
These sites are designed for RVs and there is plenty of room for slide outs and screen rooms, and of course, as with all of our sites, a table and fire ring are included.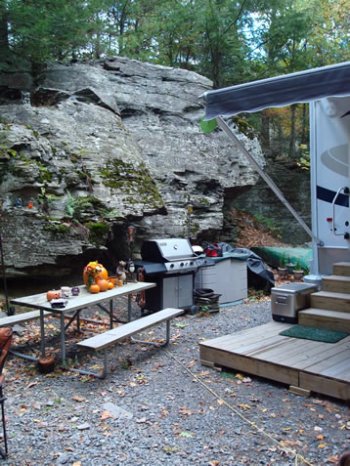 Season Dates
Our season starts May 1 and ends October 1.
Seasonal campers have until October 15 to close down. While we don't guarantee to keep the roads open during the winter, weather permitting, you may be able to briefly visit your unit.
Winter Storage
Winter on-site storage (October - May) is available for an additional charge for those who choose to leave their trailers with us.
Seasonal Rates
Please call for pricing at 845.246.8334
Get on the List
Interested in a Seasonal Site? Many campers are, and as a result we have a wait list. To add your name to the list simply complete the form to the right and watch your email! We adhere to a first-come / first pay policy, here is how it works:
If a season notifies us that they are not interested in renewing, our other current seasonal campers are notified first. They have the opportunity to switch to a newly available site for the following year.
If no current seasonals are interested, an email is sent to our Seasonal Email Wait List
The first interested party who calls the office AND makes a non-refundable $700.00 deposit with their credit card will secure the site for the following season.
Seasonal Wait List Signup
Sign up to be notified when a Seasonal Campsite at Rip Van Winkle Campgrounds becomes available!
By submitting this form, you are consenting to receive marketing & general information emails from: Rip Van Winkle Campgrounds, 149 Blue Mountain Rd., Saugerties, NY, 12477, US, https://www.ripvanwinklecampgrounds.com/. You can revoke your consent to receive emails at any time by using the SafeUnsubscribe® link, found at the bottom of every email.