Take a step back from your hectic day-to-day schedule and take a step into Saugerties, NY - home to Rip Van Winkle Campgrounds.
Saugerties, which has been voted one of America's coolest small towns, is nestled right between the picturesque Catskill Mountains and the beautiful Hudson River, making it one of the most scenic Catskill campgrounds.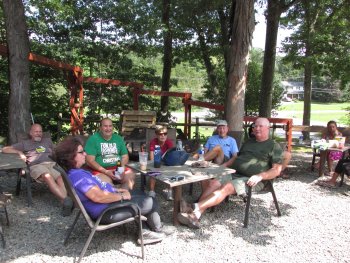 Going camping is all about becoming one with Mother Nature and truly being able to absorb the beautiful scenery of the great outdoors. Thanks to the prime location of, Rip Van Winkle Campgrounds, you can do just that.
But camping in Saugerties is so much more than being able to take in the views. It's also about relaxing. That's what camping is all about after all, right?
No matter your individual interests, you're guaranteed to find something you'll enjoy. There is something for everyone.
Sprinkled throughout the Catskill region are cute little antique shops, local events, galleries, historic sites and museums if you're interested in visiting the town and diving into the history of Saugerties, NY. Plus, it's only one hour away from the New York State Museum in Albany.
If you're more interested in an outdoor adventure like hiking, biking and/or rock climbing, you're in luck. There is plenty of exciting outdoor experiences for you to explore in the Catskill region.
Or maybe you just want to focus your camping trip on pure relaxation - in which case, you can easily find it here. Between the majestic peaks of the Catskill Mountains, the valleys, rivers and forests, Rip Van Winkle Campgrounds is the perfect camping destination to escape to if you're looking to disconnect.
So come and enjoy Catskill camping the right way by spending your visit here at Rip Van Winkle Campgrounds where you can bond with your family, soak in the great outdoors, go on an adventure or explore the amenities and hidden gems in town.