Here at Rip Van Winkle Campgrounds, we believe that camping trips are the best types of vacations for people to bring their pets along, especially dogs. In fact, we encourage you to bring along your furry, four-legged friends to explore Rip's Dog Park.
Dogs love camping just as much as we do. Between the smells, the freedom and the chance to explore, there's no better opportunity to take your dog friends on a vacation or quick getaway.
We want both you and your pets to truly take in the beauty of the great outdoors by taking long walks, playing in our lush, green fenced area and spending quality time together.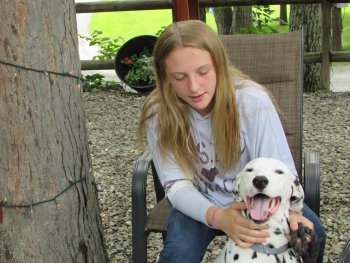 The purpose of our dog park is for your pets to run and play freely, taking full advantage of the open space we've provided for them.
Sometimes, we'll even have dog-focused events happening on the weekends like our Every Dog Has His Day Bark for Life event. Held at Saugerties Kiwanis Ice Arena, you can help to raise money for the American Cancer Society and see some really talented pups strut their stuff at different doggy demonstrations.
Your dog will be a fantastic addition to your camping trip this summer. To guarantee that you're making the most out of bringing along your pooch, we've put together a list of helpful tips to ensure that you'll be fully prepared.
Bring along your pet's documentation including a proof of updated vaccinations
Make sure your pet has tags for easy identification
But keep an eye on them! We ask that you please do not leave your pets unattended
Pack extra food and water
Pack your pets' leash, bed and other items that will help to make them feel right at home
So bring along your canine pal and we'll guarantee you'll have a dog-gone great time!